Featured Products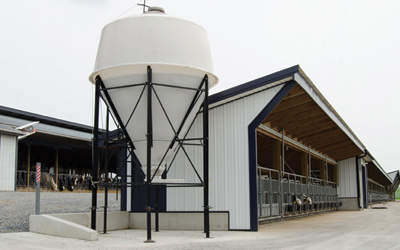 Bulk Bins
PolyDome Bulk Bins are the perfect choice for handling high-moisture corn, soybeans, and other granular materials. They are made of high density polyethylene which will never rust or corrode. PolyDome Bulk Bins will always remain clean and attractive.
Translucent polyethylene allows you to see material level
Made from high-impact, UV stabilized polyethylene.
Corrosion resistant
Easy cleaning
Smooth surface reduces bridging
Heavy-Gauge steel support frame with baked-on polyester powder coat finish
Large, vented filler cap with pull rope for ground access
Sturdy outside ladder
Slide valve standard
Easy installation and set-up
All assembly hardware included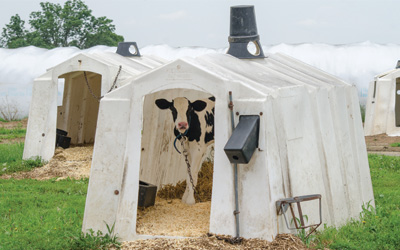 Calf Nursery
Raising calves is no easy chore! But dairy herdsmen everywhere have discovered the benefits of raising their calves in Poly Dome Calf Nurseries. During the day, the bed pack absorbs sunlight. This stored heat keeps your calves warm at night.
You'll notice a difference when you use the original Poly Dome. Your calves will show superb growth and Lung Power®
necessary to become high producers.
Use your Poly Dome throughout the year with an eight-inch bedding. Open the unit and use outside pens in July and August to prevent heat problems. Keep the calves closed-in September through June.
Made from high-impact UV stabilized polyethylene
Stackable
Easy cleaning
Easy access bottle holder
Bucket holder with 2 5-quart buckets
Center adjustable flow vent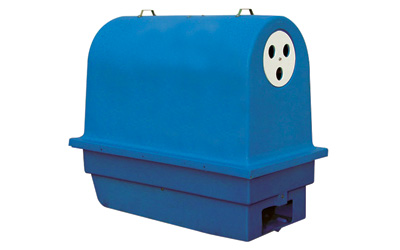 Calf Warmer
The PolyDome Calf Warmer provides a comfortable environment for newborn calves for the first few hours after birth. The top section is hinged, and removable, for calf entry.
The PolyDome Calf Warmer comes complete with a deluxe, highperformance, 110 volt heater. The entire unit is made of medium density polyethylene for long-lasting durability and easy cleaning.
Made from durable,medium density polyethylene
24″ Wide x 50″ long x 45″ tall; lower section 16″ deep
Removable top section
Easy cleaning
Raised, slotted floor
Stainless steel support system
Ribbed bottom
Vent/Peep hole
Deluxe, high-performance, 110 volt, 2-speed heater
Additional Products & Downloads